Thuasne RhizoPro - Rigid thumb brace for thumb sprains!
The Thuasne Rhizo Pro thumb brace is made to support the thumb after a sprain. The MC joint, CMC joint and the MCP joint are immobilized. The plastic frame provides optimal support for the thumb joints. In addition, this thumb brace has a perforated profile, breathable lining and comfortable padding around the joints. Suitable for use in water!


Indication statements Ligaflex Rhizo-Pro Thumb Brace

Features and benefits Ligaflex Rhizo-Pro thumb brace
Immobilization of the thumb
Anatomical fit
Breathable and moisture wicking
Water resistant (may get wet!)
Pre-shaped for both right and left


How to measure
The right size is important for a good fit and support. You can measure the size of the wrist for this. You can then find the appropriate size in the size chart below. When in doubt, choose the smallest size.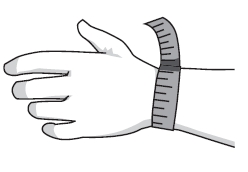 | | |
| --- | --- |
| Measure | Circumference of the wrist (in cm) |
| 1 | 12-18.5 cm |
| 2 | 16.5 - 22 cm |