Want to buy Teyder Rib Brace?
The Ribbrace from Teyder is an elastic band that can be easily attached to the torso by means of Velcro, to support the ribs. This rib brace has "two panels". This means that there are 2 panels, with a total height of 14 cm.

Also view the 3-panel version (25 cm high) and/or the 4-panel version (33 cm high) from Teyder. All torso bandages / torso braces can be used for all purposes!


Indications Teyder Rib Brace
Bruised Ribs / Rib Contusion
Broken ribs / a fracture of the ribs
Abdominal wall fracture / abdominal fracture support
To support the (thoracic) spine (upper back)
Fluid retention / edema around the trunk
Skin protection
Other injuries to trunk or ribs

Features and Benefits Teyder Rib Brace
Super price-quality ratio!
Very effective in the above indications
Easy to put on yourself with one hand
Elastic fabric, very stretchy
Machine washable at 30 degrees (or hand wash)
Total height: 14 cm
NB! Also view the 3-panel version (25 cm height) and/or the 4-panel version (33 cm height)


How can you measure the Teyder Ribbrace?
The Teyder Ribbrace is available in two sizes (S/M and L/XL) and two colors (Beige and White). You can easily determine the correct size by measuring the circumference of your torso, at the height of where you want to wear the rib brace. Then you can read in the size chart below which size is suitable for you. See also the image below. If in doubt between 2 sizes, we recommend the larger of the two.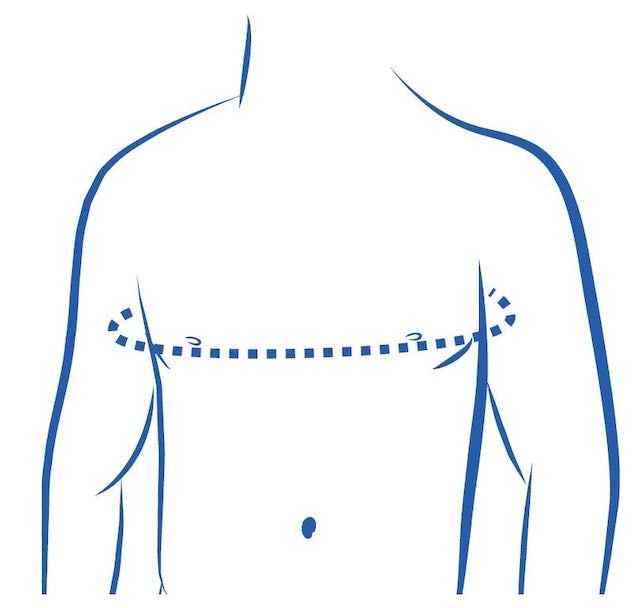 | | |
| --- | --- |
| Measure | Trunk size |
| S/M | 74 - 95 cm |
| L/XL | 96 - 117 cm |

Tips!
Did you know that!? This Ribbrace is a 2-panel torso bandage. A 3-panel or a 4-panel torso bandage is also available! These torso bandages are suitable for all purposes.
This product is easy to wash in the machine at 30 degrees. Place the product in a laundry bag or pillowcase. Hand wash is also an option.
It is best to always fasten the Velcro straps when you are not wearing this elbow brace? This way the Velcro will not unintentionally stick to everything and it will wear less hard.