Want to buy Teyder Premium Ankle Brace? Always the best price!
The Teyder Premium Ankle Brace is an elastic compression brace for the ankle. This ankle brace has a silicone padding in the weave both medially and laterally (inside and outside of the ankle knots) to support the ankle straps. In addition to this compression and silicone support, a free extra strap is also included! You place this strap in an '8 figure under the foot and around the ankle joint.


Indications Teyder Premium Ankle Brace
Torn or torn anklets
Ankle sprain and / or sprain
Inversion trauma (supination)
Eversion trauma (pronation)
An unstable feeling in the ankle
Non-specific ankle complaints
(Mild) osteoarthritis
Rheumatic disorder

Features and benefits of the Teyder Premium Ankle Brace
Compression brace with a nice fit!
Includes 2 silicone pads (both on the inside and outside!)
May get wet and can be worn in water
Free strap supplied for extra compression and stability!
Suitable for sports!


Determining the size of the Teyder Premium Ankle Brace
For the correct size, measure the circumference of your ankle just above the ankle bumps (see also the image below). Then you can read in the size chart below which size is suitable for you. When in doubt between two sizes, we recommend the smaller of the two.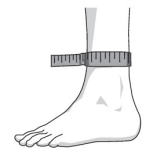 | | |
| --- | --- |
| Measure | Ankle circumference |
| Small | 21 - 23 cm |
| Medium | 23 - 25 cm |
| Large | 25 - 27 cm |
| XL | 27 - 29 cm |

Tips!
Did you know that?! It is better to close the Velcro straps after use. This keeps the fabric of the ankle brace beautiful for longer and the Velcro lasts longer.
Did you know that!? You can wear the Teyder Premium Ankle Brace in phases. In the first phase you wear the ankle brace including the free strap supplied (for more compression and stability). When the complaints have subsided, you can wear the ankle brace without a strap and wear the ankle brace as a compression brace!
Did you know that?! This ankle brace can be worn preventively when the rehabilitation period is over. This prevents another injury! After all, prevention is better than cure :)