Teyder Ankle Brace Open Heel!
The Teyder Ankle Brace Open Heel is a light support that does not impede the mobility of your ankle! The ankle brace supports the ankle joint, promotes blood flow and temperature of the tissue. The special strap is fitted to support the ankle straps. This supports the lower jump joint in inversion and eversion direction. In this way the ankle brace prevents the ankle from getting into the extreme joint positions and thereby stretching the ankle straps.
This open heel ankle brace from Teyder is ideally suited for floor sports such as judo & gymnastics because of the open heel.
Indications Teyder Ankle brace open heel
Sprained ankle (sprained ankle)
Preventive against ankle sprains
Insufficient anklets
To be deployed after surgery
inversion trauma

Features and benefits Teyder ankle brace open whole
Adjustable ankle strap
Compression for better circulation
Can be worn on the right or left
Thermotherapeutic effect
Supports the ankle straps
Ideal for sports like gymnastics & judo due to open heel bandage!
Proprioceptive effect

How to Measure Teyder Ankle Brace Open Heel
Choosing the right size is important for a good fit and support. You can easily determine this yourself. Measure the size around the thinnest point of the ankle. You can use this to read the size in the table below. When in doubt between two sizes, it is best to choose the largest size.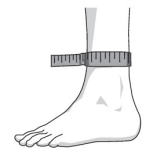 | | |
| --- | --- |
| Measure | Ankle circumference |
| Small | 21 - 23 cm |
| Medium | 23 - 25 cm |
| Large | 25 - 27 cm |
| XL | 27 - 29 cm |
Tips!
Attach the Velcro after you have pulled out the ankle brace. As a result, the Velcro does not stick to the fabric and the ankle brace remains of a better quality.
If the ankle brace is dirty, you can clean it in a hand wash. Do not use any aggressive cleaning agents and allow the ankle brace to air dry.