Want to buy CARE Malleo ankle brace? Faster recovery through compression!
The CARE Malleo Ankle Brace can be used to support the irritated ankle joint. It is recommended to wear an ankle compression brace as a precaution when you have weak ankles. In addition, you can wear the CARE Ankle Brace if you have suffered mild trauma, such as a sprain, tearing of the ankle straps, mild instability complaints or if you suffer from a lot of moisture around the ankle joint. The homogeneous compression ensures that moisture is dissipated faster and recovery is accelerated. The two silicone pads on the inside and outside of the ankle joint reduce swelling and activate blood flow. Thanks to the elastic knitting, the CARE Ankle Brace is easy to put on and is very comfortable! You can wear the ankle brace in any type of shoe!

Would you prefer this ankle brace without silicone pressure pads? View the CARE Ankle Bandage here !


Indications for wearing the CARE Malleo Ankle Brace
Sprains / sprains / strains / bruises (distortion) of the ankle
Swelling (excess fluid in the joint)
Mild postoperative and post-traumatic complaints (eg after sprains)
Intra-articular fluid accumulation and swelling from arthrosis, arthritis and / or rheumatism
Band weakness ankle bands / mild instabilities

Features and benefits CARE Malleo Ankle Brace
Very thin; so easy to wear in all kinds of shoes
Lightweight ankle brace
Breathable knit for better moisture wicking
Very user-friendly and easy to put on
Can be worn under or over the sock (preferably directly on the skin)

Determine the size of the CARE Malleo Ankle Brace
The right size is very important. You can determine your size yourself by measuring the
size just above your ankle
(see image below). You can then find the correct size in the table below. When in doubt, take the
larger
of the two sizes.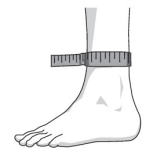 | | |
| --- | --- |
| Measure | Ankle size |
| S | <21 cm |
| M | 21 - 23 cm |
| L | 23 - 25 cm |
| XL | > 25 cm |
Tips!
The CARE Malleo Ankle Brace is easy to wash with a hand wash, but you can also wash it in the washing machine, at a maximum of 30 degrees. Place the ankle brace in a laundry bag or pillowcase.
Do you like the CARE Malleo Ankle Brace? You now buy a second cheaply. Use the discount code: another caramel all ankle brace and be surprised!
Did you know that this ankle brace is also available as an ankle brace without silicone pressure pads? View the CARE ankle bandage here: https://www.probrace.nl/nl/care-enkelbandage.html