Delivery measures because Corona / Covid-19
You can't have missed it, the world has been hit by a pandemic called Corona / Covid-19
Recently, all measures in the Netherlands regarding the coronavirus (COVID-19) have been tightened up. We as citizens have been called upon to take common action with common sense to prevent it
virus cannot spread further. You may assume that, just like you, we take our responsibility in this.
In view of the recent developments, we therefore send you this update:
We will do our best to provide you with our well-known service for as long as possible. Our employees will continue to work for you under strict conditions. To be able to send your necessary order while you are not welcome anywhere else. If in stock, we will transfer our shipments to the various parcel services every working day.
Unfortunately, we are currently confronted with strong fluctuations in the delivery speed of our parcel services, you can read more about this in the email below that we received from our logistics partner 'SendCloud' .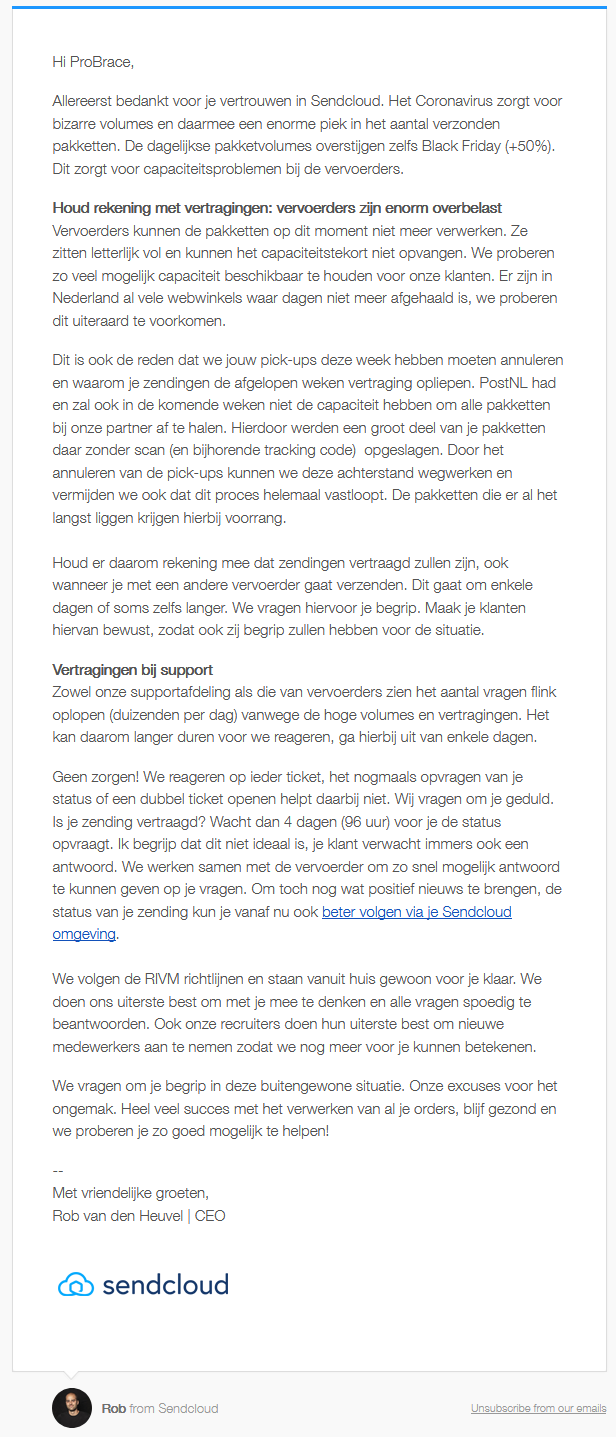 This means that your shipment may not have the correct status when you check your Track & Trace code. As soon as you receive an email from us 'your order has been shipped', your shipment has actually been shipped. Depending on the depot where your order is processed and the crowds there, your package will not receive a 'welcome scan ' , but the package will be scanned for the first time as soon as the package goes with the courier before delivery.
We understand better than anyone that this feels strange and unfamiliar to us. However, this is a force majeure situation over which we and all supplier services have absolutely no control. We check from day to day which courier services have the shortest delivery time, so it is possible that your package is delivered by PostNL, DHL or DPD.
We therefore advise you to currently take into account a variable delivery time of 2 to 8 working days and ask for your understanding and patience during this strange time .....
With kind regards,
Team ProBrace