Want to buy Reh4Mat Lumbar Back Brace?
The Reh4Mat Lumbar Back Brace is a very sturdy back brace to support the lower back. Do you want to support your lower back very well? Then this back brace is the choice for you! The comfortable cotton fits well and is very skin-friendly. The lumbar rubber support is intended to protect and support the vertebrae. In addition, 4 anatomical ribs have been placed on the back to support the back. You can put on the extra sturdy straps at the front to offer more support to the lumbar back.

We recommend this product if you want to firmly support your lower back. For example with nerve complaints, such as a hernia, stenosis, etc.


Indications Reh4Mat Lumbar Back Brace
Spondylosis & Spondylodesis
Position abnormalities in lumbar vertebrae
Sciatica
Rheumatoid complaints in the back
Post-operative Support
Lumbalgia
Complaints of the lower back

Features Reh4Mat Lumbar Back Brace
Very stable lower back support
Anatomically shaped ribs for support
Skin-friendly cotton material
Height front: +/- 15 cm
Height back: +/- 28 cm
Compression action
Extra straps for compression and support (with Velcro closure)


How do you measure the Reh4Mat Lumbar Back Brace?
It is important to choose the right size for the Reh4Mat Lumbar Back Brace. Only with the right size is your back optimally supported, because the ribs fit perfectly with it. This also applies to the tightening straps, if the size is not correct you cannot put the desired tension on the back brace. With the size chart below you can easily read the correct size. For this it is the intention that you measure the circumference of the back (at the height of where you want to wear the back brace).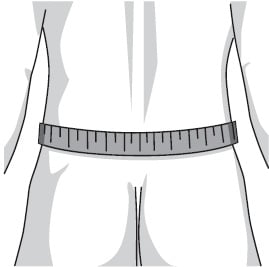 | | |
| --- | --- |
| Measure | Size Lower back |
| s | 65 - 75 cm |
| m | 75.5 - 85 cm |
| l | 85.5 - 97 cm |
| XL | 97.5 - 110 cm |
| XXL | 110.5 - 125 cm |
| XXXL | 125.5 - 145 cm |

Tips for the Reh4Mat Lumbar Back Brace!
The Reh4Mat Lumbar Back Brace is easy to put on while standing. Do you find this difficult, for example due to a reduced hand function? Then put the Back Brace on the bed, lie on it and close the Velcro fasteners while lying down. Even easier! :)
We recommend that you wear a shirt/t-shirt under the back brace. In this way the back brace stays clean longer, the back brace wears less hard and you are less bothered by pressure spots.
You can easily wash this product. For this it is best to read the washing data in the product description (see included in the box).