Reh4Mat Gilchrist Shoulder Sling
Are you looking for a comfortable and maximum stabilizing arm sling for your shoulder complaints? The Reh4mat Gilchrist Shoulder Sling is the modern equivalent of the ancient Gilchrist dressing. However, this shoulder sling is easy to use and easy to put on with one hand. The Gilchrist shoulder sling can be used temporarily for
bursitis
,
instability of the shoulder joint
, hypermobility,
dislocations
or
inflammations.
By generating rest for your shoulder, your shoulder will shrink considerably. In addition, the Gilchrist shoulder sling is used post-operatively with great success in people who cannot be instructed (eg due to dementia) to give the operated shoulder joint the necessary rest.
Indications Reh4Mat Gilchrist Shoulder Sling
Shoulder joint instability
Hypermobility
Shoulder dislocations
Acute & Chronic Shoulder Pain
Rotator Cuff Problems
Tendopathy / myopathy
The shoulder brace for bursitis
After a post-operative condition

Features and benefits Reh4Mat Gilchrist Shoulder Sling
Easy to put on and take off
Lightweight and breathable
Can be individually adjusted using the tire system (can be cut to length)
Easy to wash
Universal (can be worn on the left and right)
Equipped with comfortable padding at hand
Suitable for sleeping with

Determining your size of the Gilchrist Shoulder Sling
To determine the correct size you need the length of your arm (see image below). You can then find the correct size in the table below. If you are on the border of two sizes, it is best to order the larger of the two sizes.
The Reh4Mat Gilchrist Shoulder Sling can be used both left and right.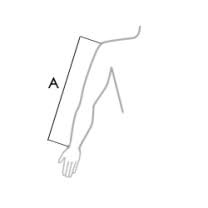 | | |
| --- | --- |
| Measure | Arm length (A) |
| m | 50 - 60 cm |
| l | 60.5 - 75 cm |
Tips for the Reh4Mat Gilchrist Shoulder Sling!
Always close all Velcro straps after use to prevent excessive wear.
Preferably wash the shoulder brace in a laundry bag or pillowcase at 40°C with a mild detergent. Then let it air dry.
Do not put the Velcro strap of the shoulder brace too tight if you would also like to sleep with this shoulder brace.