Buy a straight holder for the back? Buy the Back Straightener Deluxe!
The GO Medical Back straightener Deluxe corrects your posture and reduces complaints to your back, neck, shoulders and head. This product does what it promises and stands for a good price-quality ratio and above all a lot of comfort, compared to other back straight holders!

No more bent at your computer, no more bent at the table, never again bent in the car, or the bicycle or while walking! The Deluxe Back Straightener pulls the shoulder girdle with its elastic straps and thus corrects your posture.


Indications for wearing the Back Straightener Deluxe
Correcting drooping shoulders
Correcting for a 'round upper back' (reinforced kyphosis)
Support in recovering from a collarbone injury or fracture
Reducing a nagging feeling between the shoulder blades
Reducing headaches (often caused by unnecessary muscle tension, as a result of a bad retainer)
Reducing neck complaints
Retraction of the shoulder girdle
Upper back complaints when standing or sitting (long)
Starting / chronic back, neck, shoulder and / or headache
Advantages and properties Back straightener Deluxe
It is recommended to use preventively !!
Very comfortable due to soft elastic bands around the shoulder and under the armpit
Very lightweight
Great to hide under clothing
Corrects your attitude
Reduces (nagging) pain / complaints in the back, neck, shoulder and / or head
Improves breathing
Easy to put on


How do you measure the Back Straightener Deluxe from GO Medical?
For the correct size, measure the circumference of your torso under the armpits (see image below). You can then find the right size in the table below. When in doubt between 2 sizes, we recommend the larger of both sizes.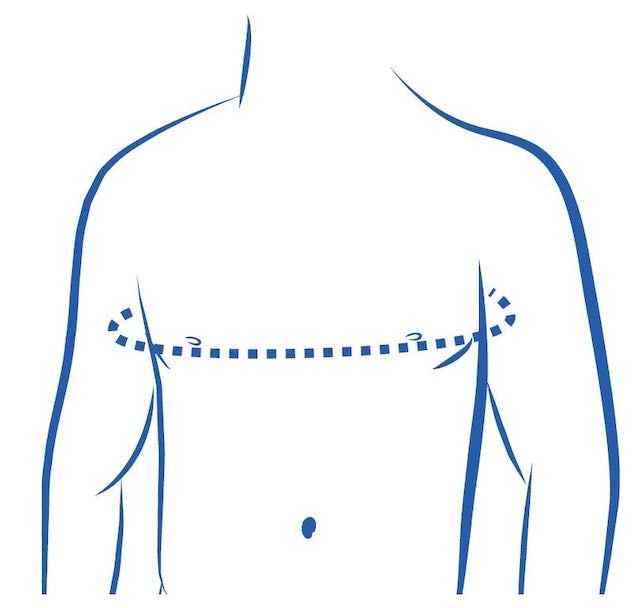 | | |
| --- | --- |
| Measure | Size |
| Size 1 | 70 - 90 cm |
| Size 2 | 90 - 110 cm |
| Size 3 | 110-130 |
Tips!
Wear the Back straightener Deluxe when you experience the most complaints. If you know that you often experience back, neck, shoulder and / or headaches while working, make sure that you put on the Back Straightener Deluxe before you start working. After all, prevention is better than cure!
Always wear the GO Medical Upper back straightener over (under) clothing with sleeves to avoid any skin irritation near the armpits.
The Back straightener Deluxe can be washed as usual. This is allowed in a washing net / pillowcase on a short washing program 30 degrees. Or possibly a hand wash is always allowed.