With the Genu PFS Promaster knee brace with adjustable kneecap support you get a high-quality knee brace from the new Thuasne ProMaster line! This knee brace is specially made to support the kneecap while stretching and bending the knee. The adjustable and anatomically shaped kneecap pad grips the kneecap and supports it in the lateral direction. This will reduce the chance of (sub) luxation of the kneecap.
The Thuasne Genu PFS ProMaster has a very slim fit, without compromising on the support this patella brace offers. The anatomically designed knitting ensures very high wearing comfort!


Indication Genu PFS ProMaster Knee Brace
(Sub) luxation of the Patella
Patellofemoral pain syndrome
Severe degenerative change of the patella groove
Post-operative deployment after MPFL construction
Medial lighting on the kneecap
Lateralization of Patella
Instella complaints Patella
Retropatellar osteoarthritis

Features and benefits Genu PFS ProMaster Knee Brace
Anatomically shaped patella pad
Integrated hinges
Traction system for the correction and securing of the patella groove
3D fabric over the kneecap
High elastic 3D fabric in the popliteal cavity
Elastic fabric bandage
Latex free


How to determine the correct size of the Thuasne Genu PFS?
You can easily determine the correct size for the Genu PFS ProMaster yourself. Sit on the tip of a chair and keep the knee slightly bent. With the circumference of your leg 14 cm above the knee and 12 cm below the knee. Then you can see in the size chart below which size is most suitable for you. This knee brace is available in a right and a left version .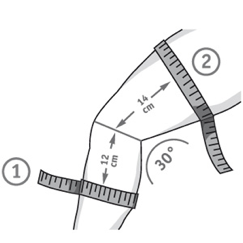 | | | |
| --- | --- | --- |
| Measure | Thigh circumference (2) | Scope of lower leg (1) |
| XXS | 35-38 cm | 25-28 cm |
| XS | 38-41 cm | 28-31 cm |
| S | 41-44 cm | 31-34 cm |
| M | 44-47 cm | 34-37 cm |
| L | 47-50 cm | 37-40 cm |
| XL | 50-53 cm | 40-43 cm |
| XXL | 53-56 cm | 43-46 cm |