Elbow brace CARE - Massage brace for the elbow!
An elbow brace with a stabilizing effect in case of overload complaints around the elbow zone. The silicone pads have a massaging and damping effect on the forearm muscles.
The CARE elbow brace is a brace for people with injuries around the elbow joint. The elbow brace stabilizes the muscles of the forearm, gives a homogeneous pressure (compression) around the joint and has two silicone pads (on the inside and outside of the forearm). These pads have a massaging and pain-reducing effect on the forearm muscles. These are the muscles that are overloaded in the known tennis elbow and golf elbow diagnoses .
Would you prefer this elbow brace without silicone pads? Then look here .
Indications for the use of CARE Elbow Brace
Chronic pain around the elbow
Elbow overload
Tennis elbow (Epicondylitis Lateralis)
Golfer's elbow (Epicondylitis Medialis)
Preventing recurrences
Can be used during sports (active support)
Can be worn while working

Features and benefits CARE Elbow braces
Elbow brace with cushioning and massaging silicone pads
Easy to put on with one hand
Homogeneous pressure around the entire joint
Provides warmth and stability to the elbow
To be worn under clothing
Available in three colors: Beige, Gray and Black


How to measure the CARE Elbow Brace?
This product is available in three colors: beige, gray and black. The CARE elbow brace is easy to measure yourself. For this you only need to measure the size of your forearm (at the thickest point of the forearm) , compare in the table below for the correct size. See also the image below for measuring. When in doubt between 2 sizes, we advise you to choose the larger of the two.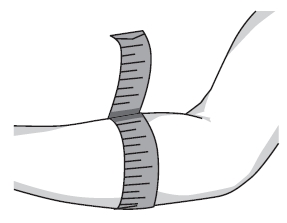 | | |
| --- | --- |
| Measure | Forearm size |
| S | <21 cm |
| M | 21 - 25 cm |
| L | 26 - 30 cm |
| XL | 31 - 34 cm |
| XXL | > 34 cm |

NB: This elbow brace can be worn on both the left and right.
Tips!
You wear the CARE Elbow Brace on your arm, at the level of the elbow joint. Place the silicone pads on the muscle bellies of the muscles of the forearm. See also the pictures.
Is there anything unclear or do you have questions about the product? Please contact our customer service without obligation, via 085-4011911 or mail to

[email protected]

The CARE Elbow Brace with massaging and pain-relieving pads is also available as a CARE Elbow Bandage (without silicone pads). Look here for this product: https://www.probrace.nl/nl/care-elleboogbandage.html