Want to order CARE wrist bandage? Ideal for osteoarthritis, rheumatism and fibromyalgia!
This wrist bandage from the brand CARE is ideal for extra support around the wrist. This universal (wearable on both sides) wrist bandage is a functional support for the wrist and an excellent preventive support for daily and light activities. This wrist bandage is especially recommended for complaints on the wrist due to rheumatism, arthrosis or fibromyalgia. The warm, soft and elastic material is easy to keep clean and easy to put on with one hand.

If you are only looking for support for the wrist joint, take a look at the CARE Wrist Support !


Indications for the CARE wrist bandage
(Complaints from) rheumatism
Osteoarthritis of the wrist / hand
Fibromyalgia
Mild wrist instability
Slight overload on the wrist
Resuming sports activities after a wrist injury
Swelling (excess fluid in the joint)

Features and benefits CARE wrist bandage
SUPER price quality ratio!
Lightweight wrist bandage
Easy to put on thanks to the stretch component
Can be worn on both sides (universal)
Mild homogeneous compression and pressure around the wrist
Easily washable (machine washable, 30 degrees)
Proprioceptive effect
Good to apply with edema / fluid in the arm / hand


Determine the size of the CARE wrist bandage
The correct size is very important for the proper functioning of the product. You can determine your size by measuring the
circumference of your wrist
at
the thinnest point of your wrist
(see image below). You can then find the correct size in the table. When in doubt, take the
larger
of the two sizes.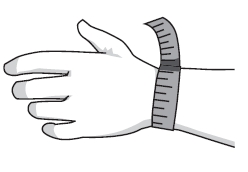 | | |
| --- | --- |
| Measure | Wrist circumference |
| S | 11 - 14 cm |
| M | 15 - 17 cm |
| L | 18 - 20 cm |
| XL | > 20 cm |
Tips!
The CARE wrist bandage is universal; can be worn on the right or left. Would you like to purchase a second one? Then use the discount code: nogeencarepolsbandage and be surprised!
You can wash this product by hand wash, but you can also wash this product in the washing machine. Put it in a pillowcase or laundry bag and wash it at a maximum of 30 degrees.
In addition to the CARE Wrist Bandage, the CARE brand also offers a Wrist Support, which only provides compression around the wrist joint. See here: https://www.probrace.nl/nl/care-polshulp.html