Indications Bauerfeind Sports Knee Strap Patella Brace
Instability of the kneecap (patella)
Jumpers knee
Osgood Schlatter
Patellar femoral complaints
PFPS Patella femoral pain syndrome
Status after patellar luxation (the kneecap dislocated)
Other complaints on and around the kneecap
Preventive or for resumption of sports activities

Features and benefits of the Bauerfeind Sports Knee Strap Patella Brace
Supports and stabilizes the knee for light to medium complaints!
This patella brace can be worn right and left!
Recommended by specialists and athletes!
Very effective in the above indications!
Easy to put on independently!
Easy to wash with a hand wash!


How can you measure the Bauerfeind Sports Knee Strap Patella Brace?
This product is a universal (wearable on both sides) product and available in three sizes (S, M & L). For the correct size, measure the circumference of your knee just below your kneecap. Then you can read in the table below which size is most suitable for you. When in doubt between two sizes, we advise you to choose the largest size.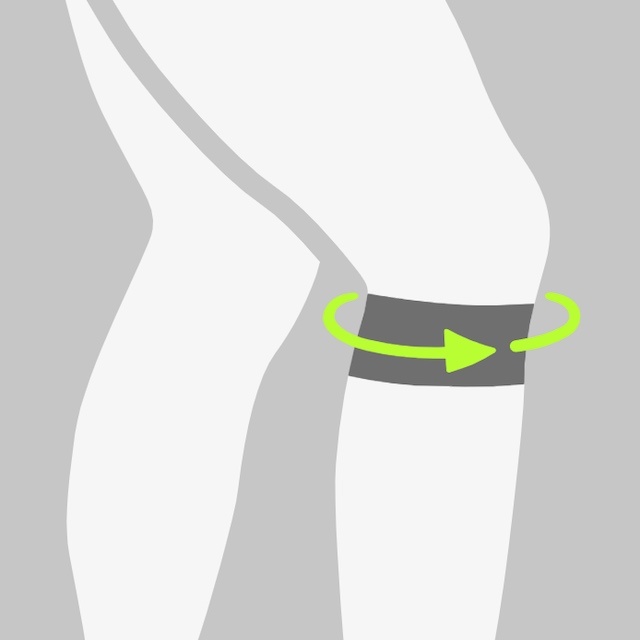 | | |
| --- | --- |
| Measure | Circumference of the knee, just below the kneecap |
| Small | 28 - 30 cm |
| Medium | 30 - 35 cm |
| Large | 35 - 44 cm |
Tips!
This product can be worn both right and left! Do you suffer from both knees? You can always try one copy and order a second one when you like it.
We recommend this product! This product is hugely priced by many colleagues, specialists and athletes! Use it to your advantage!
Wear this product on both sides so that both knees are well supported!