Basko ASO Ankle Brace - Worldwide favorite!
An ankle brace that is often used for running, football, tennis, badminton and volleyball. The most important feature of the ASO ankle braces is the tire system (Figure 8 band), which ensures optimum fixation of the ankle joint and prevents inversion and eversion (swiveling of the ankle). The material (durable ballistic nylon) also contributes to long-term support. In addition, the ankle braces are very adaptable thanks to the lacing system on the front and the three main elements form a successful brace treatment: non-elastic bands, calcaneus (heel bone) fixation and a circular closure.


Indications for wearing the Basko ASO ankle brace
Only instability (from light to heavy)
Haircut problem
Chronic Instability
Cartilage problems
Hypermobility
Ankle fractures type Weber A with isolated lateral malleolus fracture,
Swelling (excessive fluid in the joint)
Band injury problems (eg with ankle band lesions)
Severe sprains / sprains / strains / bruises (distortion) of the ankle
Supination prevention, especially in connection with sporting activity
Irritation of the ankle straps

Features and benefits of the ASO ankle brace
Can be worn left or right
Rigid support, ideally suited to the heaviest loads (for example during sports)
Removable 'ribs' so that the support can be taken down and built up
Ideal for the 3 stages of recovery after ankle injury
The adjustable 'figure-8' bands guarantee optimum support for the ankle joint

Determine your size of the ankle brace
The right size is very important to prevent irritations and pressure points. You can determine and select the correct size based on your shoe size, heel / instep size and foot type. If you are on a limit, we advise you to order the smaller size .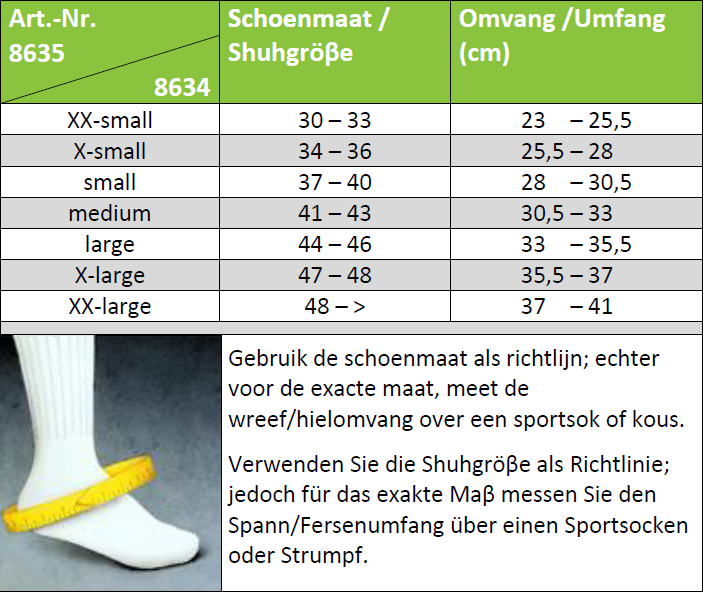 Note: The Basko ASO is available in white or black and can be worn both left and right.


Tips:
We recommend that you wear a high (sports) sock under the brace to protect the skin against possible stitching.
Always close the Velcro straps after use to prevent tangles and contamination of the Velcro fastener.
Wash the ankle brace preferably by hand or in a wash net / pillowcase on a delicate wash program. Allow to air dry, do not spin!