Want to buy Vission Single Finger Splint?
The Basko Vission Single Finger Splint is a proven conservative method for the treatment of osteoarthritis, dupuytren and / or a trigger finger. This hand splint comes standard in a preformed (slightly curved) rest position. The deformable rib can be bent to a desired position.
As a treatment, we recommend wearing this hand splint during the night anyway. You can also wear this hand splint during the day. The return of the contracted position of the finger (s) during the day can thus be prevented. Not sure? Consult your doctor or contact our customer service .


Indications Basko Single Finger Splint
Arthrosis
Dupuytren
Triggerfinger
Flexion contracture in the fingers
Pre- and postoperative with Dupuytren treatment
When stretching / holding the finger (s) out is desirable

Features and Benefits Single Finger Splint
Forces the finger (s) into extension (straightening) position
Comfortable fit
Easy to keep clean
Ventilating effect
Can be worn both left and right!
Very easy to put on and take off


How do you measure the Vission Single Finger Splint Hand Splint?
For correct fitting of this universal hand splint, take the size of your wrist (see picture). Then you can read in the size chart below which size is most suitable for you. If you are in doubt between two sizes, we advise you to choose the largest size.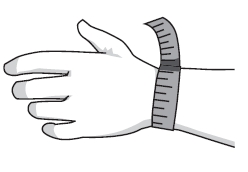 | | |
| --- | --- |
| Measure | Wrist size |
| S. | <16 cm |
| M. | 16 - 19 cm |
| L. | > 19 cm |

Tips!
Wear this Dupuytren splint especially at night. When desirable and possible, you can also wear this splint during the day. If necessary, discuss this with your doctor or contact us for tailor-made advice!
Close the Velcro straps after use to keep the hand splint nice!
In addition to wearing this hand splint, we also recommend multiple treatments with the physiotherapist!